[vc_row][vc_column][vc_column_text]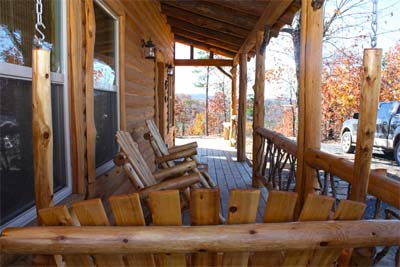 Wolf Pen Gap Cabin Rentals Have So Much To Offer
The world famous Wolf Pen Gap Mena, AR, boasts some of the top ATV trails in the country, and is one of the top used trail systems in the state of Arkansas. The trails here are suitable for all skill levels and range from roads and trails to rocky trails.
The best way to experience this amazing area and these magnificent trails is to get a cabin rental in Wolf Pen Gap. Over a few days, you can explore the area right from your doorstep. The scenery and adventure is a thrill for all ages and skill types.
Cabin Rentals in Wolf Pen Gap
Clear Sky Ridge offers luxury cabin rentals in Wolf Pen Gap, just outside of Mena Arkansas. These luxurious cabins come fully furnished and sleep 8-12 comfortably. They come with all the modern conveniences one could ask for to ensure your stay with us is spent with family and friends enjoying the wonders of Wolf Pen Gap. The Cabins at Clear Sky Ridge offer 360 panoramic views of Wolf Pen Gap and the surrounding areas. There is nothing like watching a beautiful sunset from the porch of the cabin after an adventurous day exploring on your ATVs with friends and family!
Renting a cabin like Clear Sky Ridge in the heart of Wolf Pen Gap offers an authentic "Arkansas Outdoor" experience.
The Wolf Pen Gap area consists of four trailheads, each with varying sizes of areas to park. There are numerous campgrounds and cabins located all around the trail system, including Clear Sky Ridge, which allows you to ride from the campground or cabin straight to the trail without needing to trailer to a trail head.
Wolf Pen Gap has several points of interest. The Mine Shaft, Hawks Overlook, and High Point are good examples of some of the sights to be seen on this trail system. What makes this trail system so unique is all the OHV related businesses you have access to from the trail and open roads.
So for your next ultimate family vacation adventure, there is no better place than Wolf Pen Gap. Rent a cabin with Clear Sky Ridge and experience a place that provides everything you'll need to enjoy a peaceful, relaxing or adventurous stay.[/vc_column_text][/vc_column][/vc_row]