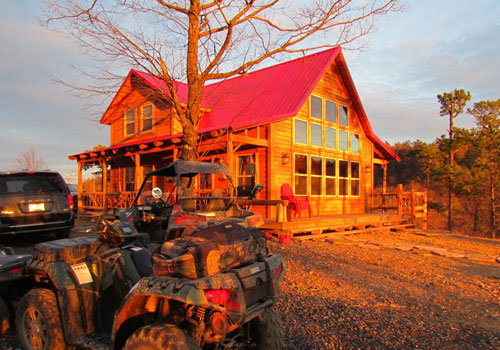 The perfect Mena Arkansas vacation starts with finding the perfect cabin rental, but with so many Mena Arkansas cabins to choose from how do you know which one to choose?
If you're a family or group of friends looking for the ideal cabin in Mena Arkansas, we're glad you found us at Clear Sky Ridge. Our recently built cabin, Clear Sky Lodge is a stones throw from Mena Arkansas and in the heart of Wolf Pen Gap, known for its ATV adventure trails.
Why is Clear Sky Lodge the perfect Mena Arkansas Cabin?
Our goal when building Clear Sky Lodge was to have a cabin that captures how special this area of Mena Arkansas is, is rustic in character, yet has all the modern conveniences, and we wanted to appeal to all types of vacationers, from the adventure seekers, to the relaxed folks wanted to escape and have a retreat in the heart of nature.
Mena, AR
Mena Arkasas is the gateway to some of the most visited tourist attractions in Arkansas. An estimated 1.2 million visitors each year come to Mena for these natural features, such as Wolf Pen Gap ATV trails, Ouachita National Forest and Lake Ouachita.
Click www.visitmena.com the official Mena Arkansas tourism website.
We believe Clear Sky Lodge, our flagship Mena Arkansas cabin does all this and offers more:
Over 1200 square feet, with 3 bedrooms and 2 bathrooms- this cabin comfortably sleeps 10. Explore the cabin here.
Fully furnished with a full kitchen and includes all amenities. See all cabin amenities here.
Sits atop a secluded 24 acre mountain retreat that borders Ouachita National Forest and overlooks Wolf Pen Gap. The views and sunsets are breathtaking!
This is truly one of the most exquisite cabins in Mena Arkansas. To really capture the detail and character Clear Sky Lodge offers, see our Gallery page.
Our rates are very competitive and offer excellent value for money. The amount of attractions and things to see and do around Mena Arkansas are many and will appeal all ages and interests. Click here for more information.
We full up fast and especially during holidays and high season periods. Contact us to inquire about availability, and we hope you enjoy your next Mena Arkansas vacation at Clear Sky Lodge.